News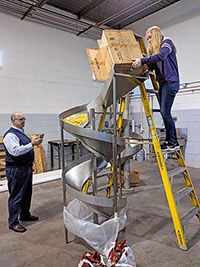 According to Dr. Fadi Aramouni, Professor at the Food Science Institute, you can significantly reduce product loss inside your facility. Aramouni, along with McKenna Mills, food lab manager at Kansas State University, determined that the use of a Spiral Chute can lower rates of breakage, rework, and waste.
Unfortunately, breakage is a common occurance inside manufacturing facilities, particularly during transitions in elevation or direction. It doesn't change taste, but adversely influences the customer experience -- which, in turn, affects the bottom dollar.
Should America produce its own metal? Paul Revere thought so. Although the patriot is much better known for his midnight ride alerting the Colonial Militia of British attack, he made his livelihood as a metalworker. He cast brass bells for churches, crafted silver jugs for dairy, and fashioned copper lanterns for - well, "One if by land, two if by sea."