News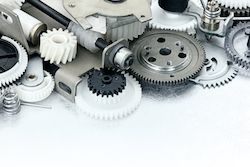 Stevenson Company, Inc., is your partner for custom machine parts. We ease the process of sourcing parts and minimize costly downtime by coverting metal parts to plastic with our CNC technology.
There's no time for downtime when a machine part breaks, so let us fix your problems quickly with our new CNC router technology.
Send us a broken machine part and we'll trace it with our technology to create a replacement part for you...Pronto! Forget calling your original equipment manufacturer and waiting.