News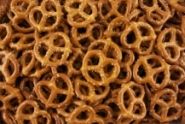 Plymouth, Indiana – Pretzels Inc., a pretzel and snack producer, announced plans today to expand its operations, creating up to 65 new jobs by 2020.
Willy Wonka's "pure imagination" inspires me to make the most of my time inside food plants and here at the tinker shop.
Willy Wonka first struck me as darkly mysterious, the way Roald Dahl originally intended. My wife, on the other hand, considered the candy maker a quirky inventor. Left to my own preferences, I never would have allowed my children to be exposed to the harsh vetting process he required of his would-be successors: shot like a torpedo through a tube; injestion of a strange allergen that left its victim bloated and blue; or floating into a trap that sucked people into whirling blades.
Our kids wouldn't be deprived of the Wonka magic, though. My outlook began to sweeten during the reintroduction. By then our children had the Gene Wilder version permanently installed in the video player, stuck like Augustus Gloop in a pneumatic tube.