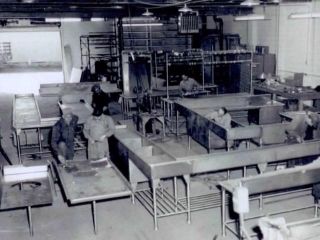 Stevenson Company is a finalist for a Small Business Award, recognizing a solid history of creating innovative products. Russell Stevenson bought a small tin shop in 1952 and advertised in the local business directory: "Sheet Metal Work of All Kinds." The business was located in a former stable. Though our facilities have been updated tremendously since then, we have remained at the same location. We have expanded to a total of 15,500 square feet and armed ourselves with state-of-the-art metalworking equipment.
Stevenson Company first entered the food industry when working with a customer to build an egg-breaking machine. The invention allowed whites to be separated from yolks. It removed human hands from the process, thereby reducing risk of diseases spread to processors and consumers.
As sanitation standards increased, so did our reputation. We are trusted suppliers of food handling equipment inside local plants (Topeka is a great hub for candy makers, snack foods, and pet nutrition because of its central location and proximity to ingredients) and global partners alike.
Our work in spiral chutes began when a customer was looking to reduce breakage of their product. Craftsmen familiar with grain conveyors created a prototype chute, an adaptation that went gangbusters. Years later, the Stevenson Spiral Chute can be found in many factories throughout the country.