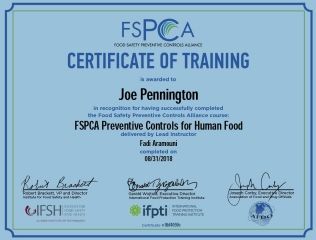 Joe Pennington, president of Stevenson Company Inc., has been certified with Preventive Controls Qualified Individual Training to help customers train and comply with the Food Safety Modernization Act (FSMA) requirement. The training was provided by Fadi Aramouni at the Food Science Institute.
The Food Safety Modernization Act is the most extensive reform of food safety laws in the United States in more than 70 years. With the proactive goal to prevent food contamination, one key change included in the reform that applies to the majority of food processors is the need to have a food safety plan prepared and implemented by a PCQI.
The main responsibilities of a PCQI are to oversee or perform the preparation of the food safety plans, validate the preventive controls, review records, and advise any additional activities needed for food safety.
"Certification enables us to get on the same page as our customers," Pennington said. "We understand more clearly the essential role our equipment plays in consumer safety."
Stevenson Company, Inc., founded in 1952, is a team of metal craftsmen with a specialty focus on stainless steel spiral chutes for manufacturers of food and breakable products. For more than sixty years, the company has been known for engineering custom products to solve difficult manufacturing problems. Innovation, craftsmanship and quality are its hallmarks.