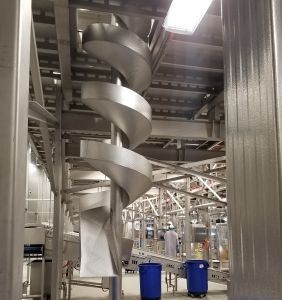 Spiral chutes are among the coolest things made in Kansas. These slipper slides eliminat ebreakage inside food plants so you can get a potato chip the size of a frisbee instead of a bagful of crumbs.
The Kansas Manufacturing Council hosted the Coolest Thing Made In Kansas, a friendly competition highlighting the state's manufacturing industry, which employs one out of 11 Kansas workers. Fans nominated the flagship product manufactured by Stevenson Company, Inc. The spiral chute qualified through an inital round of public voting, and then was sent for final judging by industry experts, academic leaders, and end users.
Trophies were awarded to the four finalists in the Coolest Innovation category. These were: Ronawk in Olathe, Apex Stages in Pittsburg, Lee Aerospace in Wichita, and Stevenson Company in Topeka.
Spiral chutes are manufactured in Topeka at Stevenson Company, Inc. The innovative chutes save fragile foods - frozen, packaged, or naked - from certain annihilation. In the same velvet-soft fashion, spiral chutes eliminate breakage of pharmaceuticals and other delicate goods.
You will be surprised to see what's being made in the Sunflower State. To learn more about the competition and to nominate your favorite product, visit KansasCool.com.