News
We are thrilled to announce the promotion of Steve Clark to the position of Operations Manager at Stevenson Company, Inc. With an outstanding track record of dedication and leadership, Steve is poised to take on this pivotal role and drive our operational excellence to new heights.
Steve Clark has been an integral part of Team Stevenson for 36 years. His extensive knowledge of the industry, combined with his exceptional problem-solving skills, has consistently delivered impactful solutions that directly contribute to the company's growth and success.
As the new Operations Manager, Steve will be responsible for overseeing the day-to-day operations, ensuring seamless coordination, efficient processes, and the highest level of customer satisfaction. His proven ability to manage teams and his commitment to fostering a collaborative work environment make him the ideal candidate to lead our operations strategy.
"Our tagline, 'Forging Powerful Partnerships,' was coined by Steve," said Joe Pennington, President of the company, "and he epitomizes that sentiment. Under his leadership, our team members will thrive, and we'll continue to provide exceptional value to our clients."
Steve's promotion aligns perfectly with Stevenson Company's philosophy of recognizing and nurturing internal talent, enabling employees to grow and develop alongside the company. His journey from Apprentice to Operations Manager serves as an inspiring example of the opportunities for advancement that the company offers.
Please join us in congratulating Steve Clark on his well-deserved promotion. We look forward to the positive impact he will undoubtedly have on our operations and our ongoing commitment to excellence.
About Stevenson
Stevenson Company, Inc. is a stainless steel expert serving the makers of food products and pharmaceuticals. Their flagship innovation is the Spiral Chute, a slipper slide inside manufacturing plants that eliminates product breakage.
Since 1948, Stevenson has built a reputation for fabrication and installation of custom products to solve difficult manufacturing structural problems. Innovation, craftsmanship and quality are its hallmarks.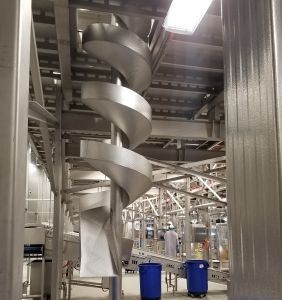 Spiral chutes are among the coolest things made in Kansas. These slipper slides eliminat ebreakage inside food plants so you can get a potato chip the size of a frisbee instead of a bagful of crumbs.
The Kansas Manufacturing Council hosted the Coolest Thing Made In Kansas, a friendly competition highlighting the state's manufacturing industry, which employs one out of 11 Kansas workers. Fans nominated the flagship product manufactured by Stevenson Company, Inc. The spiral chute qualified through an inital round of public voting, and then was sent for final judging by industry experts, academic leaders, and end users.
Trophies were awarded to the four finalists in the Coolest Innovation category. These were: Ronawk in Olathe, Apex Stages in Pittsburg, Lee Aerospace in Wichita, and Stevenson Company in Topeka.