Stevenson Company, Inc. specializes in sanitary stainless steel spiral letdown chutes for industrial settings.
Spirals (vertical gravity conveyors) surpass other letdown methods:
gently and quickly move products
reduce product breakage
efficiently use space
no maintenance required on chutes
long-term cost savings
Stevenson spirals can be customized and fitted precisely, even to unique environments where off-the-shelf solutions are not viable. Stevenson's skilled craftsmen can work on customer sites as well as ship worldwide to any location. Our team can work independently or in seamless coordination with yours, providing:
equipment design
fabrication
installation of industrial equipment
site visit to ensure proper fit
OUR FOUR MOST POPULAR STYLES
1. Standard Finish
Standard finish is the tried-and-true food contact surface. The sanitary stainless steel is polished to a fine finish to gently let down your fragile food product. Perfect for nuts, snack chips, and candy.
2. Disco™ Finish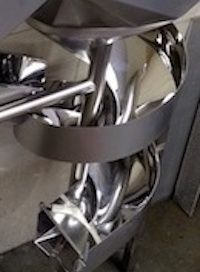 For sticky situations, you'll want our Disco™ finish. If you have extra sugary treats to convey—for example sweet heat or sugary cereal—then you'll want this treatment, providing much less friction. This mirror finish will make you look good.
3. Goosebumps™ Finish
Frozen foods can stick to flat metal like Ralphie's tongue on a flagpole. Use our Goosebumps™ finish that creates an effective conveyance surface for frozen vegetables or proteins. Your product will glide smoothly, riding on the raised knuckles of the dimpled stainless steel.
4. Spiral Twist™
Our newest offering is the Spiral Twist™, made of sanitary stainless steel rod, adapted perfectly to your packaged goods. Tubs, trays, cans or jars smoothly slide along, eliminating damage in a tiny footprint.
PARTNER WITH STEVENSON
Quality, craftsmanship and innovation are our hallmarks. If you've got a challenge, we're here to solve breakage issues. Call us for more details at (785) 233-3227.