Joe Pennington, President of Stevenson Company, Inc., was chosen to be recognized as a 2017 Washburn Fellow by the Washburn University Alumni Association and Foundation.
He was inducted as a Washburn Fellow at the Washburn Alumni Fellows Luncheon on November 10, 2017.
One of Pennington's mentors was Jack Ecord, the previous business owner of Stevenson Company. His wife, Ilene Ecord, attended the awards luncheon for the induction ceremony. Pennington shared, "It was a great privilege to have her there. It was a complete surprise that really meant a lot to us."
Fellows are invited to campus to interact with students and faculty in the classroom and other academic settings. The Alumni Fellows program honors those who achieve notable success in their chosen career fields.
"I'm incredibly honored to recieve this recognition," says Pennington. "Every day, Washburn students are learning how to be entrepreneurs, innovators and leaders of change. I'm humbled to be recognized as a distinguished Alumni and I can't wait to see what students go on to accomplish next!"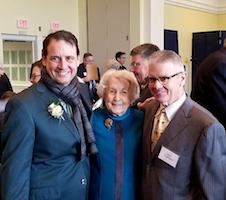 Pennington excels in handling drafting, design and project management on large commercial projects and supervises drafters on other projects. He and his staff invented innovative fabrication technology to improve the food and snack industry, and help customers solve difficult manufacturing problems.
Pennington earned his technical drafting certificate at Washburn Institute of Technology when it was formerly known as Kaw Area Technical School. He also attended Washburn University as he built his career at Stevenson Company.