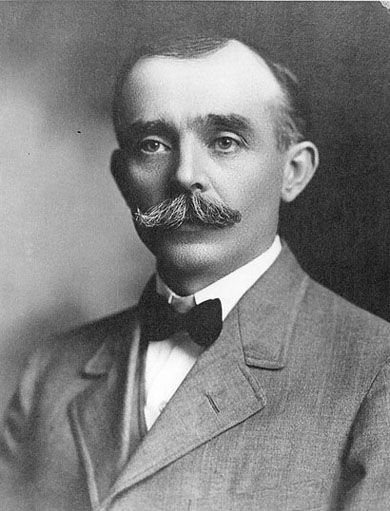 Though he was born in Pennsylvania, Dr. Samuel J. Crumbine made history in Kansas. Dr. Crumbine's pioneering public health practices established food safety and sanitation practices in the United States. Crumbine did some medical training in Cincinnati before migrating to Kansas with his wife. Dr. Crumbine made a reputation for himself as the feisty doctor who strolled the streets of Dodge City in a Prince Albert coat and a holstered six-shooter.

Dr. Crumbine's first contribution to public health improvement was at a small restaurant in Dodge City. Being a frequent diner, Dr. Crumbine convinced the management to serve milk in individual bottles instead of open jugs or pitchers. This served as a safer and more sanitary dispensing process.

After a smallpox outbreak in Pratt, Kansas, Dr. Crumbine stood against the standard practices of collective quarantine. Instead, he ordered the ill to stay at home until they recovered and vaccinated the rest of the people in the community. This success earned him a new job as head of the State of the Kansas Public Health Board. It was here that Dr. Crumbine took on some of the most challenging public health enemies.
In 1905, he went after the primary source of typhoid fever: the common housefly. Dr. Crumbine launched a statewide effort to wipe out flies. The campaign "Swat the Fly" caught the attention of a teacher named Frank Rose who showed the doctor his insect-killing invention which he called the "fly bat." The innovative prototype was a square of window screen stapled to a yardstick. Dr. Crumbine engaged young social service providers – the Boy Scouts – to assemble and deliver a renamed "fly swatter" to each household in Topeka. The invention caught on in Kansas then spread around the world.

Dr. Crumbine's next target was tuberculosis. Before the days of water fountains and Contigo bottles, there was the common cup and basin. As he was riding on a train across Kansas, he noticed that a number of passengers with tuberculosis drank water from a common drinking cup which was shared with healthy passengers. When a healthy little girl drank from the cup, Dr. Crumbine jumped out of his seat, snatched the container from the wall, and declared that both the common cup and basin would be banned by the state. And they were. However, this created a conundrum. How would people consume their water now? Fortunately, a Kansas-born, Harvard-educated man came to the rescue. Hugh Moore invented a cone-shaped paper cup that he presented to Dr. Crumbine as the "Health Cup." While the invention stayed the same, the name was changed to "Dixie Cup." It was used in place of the common cup everywhere from trains, to workplaces, and public spaces.
At Stevenson, we continue Dr. Crumbine's legacy, providing sanitary products for food plants throughout the country.