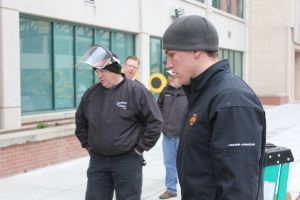 Bartlett and West commissioned artist George Hart to design a sculpture for their downtown park. We at Stevenson Company were tickled to get to work with such a creative team. We have been working with the engineers and mathematician since September. The project culminated in the final installation late last week.
Last fall George Hart sent us initial concept and drawings. We produced the stainless steel parts using our high-definition plasma cutter with scalpel precision. Later the Bartlett & West team of Jim Rinner, Kenny Etzel, and Brendan Sheehy got together to scratch heads and meet the puzzle-maker in our shop via online meeting.
Meanwhile Mr. Rinner and Stephen Clark, the general foreman at Stevenson Company, came up with a method to build a base. Electricity was run and concrete was poured at the job site. Mr. Hart asked that we install in springtime, after snow is gone.
So we all met up last week with a pallet of boomerang-shaped parts, 186 stainless steel brackets, and boxes of fasteners. In chilly weather, the Bartlett and West team assembled to set the anchors and begin assembly, while the artist traveled to Kansas. Once on-site, Mr. Hart orchestrated the team-building in a supportive way. He said, "Conflict can come up, like, 'I can't get this piece in,' but they have to sort of resolve it one way or the other. I don't always know how it's going to resolve but in general I can say there's a happy ending."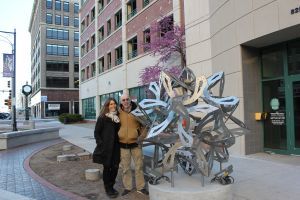 Mr. Hart continued, "It's a thing that people get deeply invested in and one of my measures to understand that it's successful is the smiles on people's faces and the things that they tell me. But another great measure that I've noticed again and again is a kind ownership. What happens is when people are involved in this, after they're done they'll bring their friend and they'll say 'I helped make that. That's my sculpture.' You know they put one nut and one bolt, but it's their sculpture. Or maybe they spent four hours just in love with the process. Everyone has a different level of involvement but there is this feel of ownership. There is this strong emotional connection."