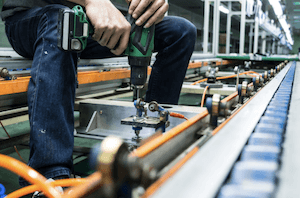 Today Stevenson Company Inc. president Joe Pennington assured that the company is delivering essential products, services, and personnel during the COVID-19 pandemic. "At times like these, it is critically important to reach out and let people know that we are here and that we continue to help food processors, hospitals, and other essential businesses as needed to continue their operations," Pennington said.o
The U.S. Department of Homeland Security has deemed food processors part of the critical infrastructure required to continue operations during this national emergency. The officials specifically name "food manufacturers and their supplier employees" as essential. As a result, Stevenson business operations remain open to continue to provide products and services its customers during this challenging time.
"We are the first-responders in the food industry," Pennington said, "keeping machines running and production environments safe. We are proud of our leadership responding to support our customers. These are tough times, but the ingenuity of our partners who are serving on the frontline is motivating our entire team." Pennington pledged the company will do whatever is needed to keep essential products, services, and personnel up and running.
About Stevenson Company, Inc.
Stevenson Company, Inc., founded in 1952, is a team of metal craftsmen with a specialty focus on stainless steel spiral chutes for manufacturers of food and breakable products. For more almost seventy years, the company has been known for engineering custom products to solve difficult manufacturing structural problems. Innovation, craftsmanship and quality are its hallmarks. More information about Stevenson can be found at StevensonCompanyInc.com.