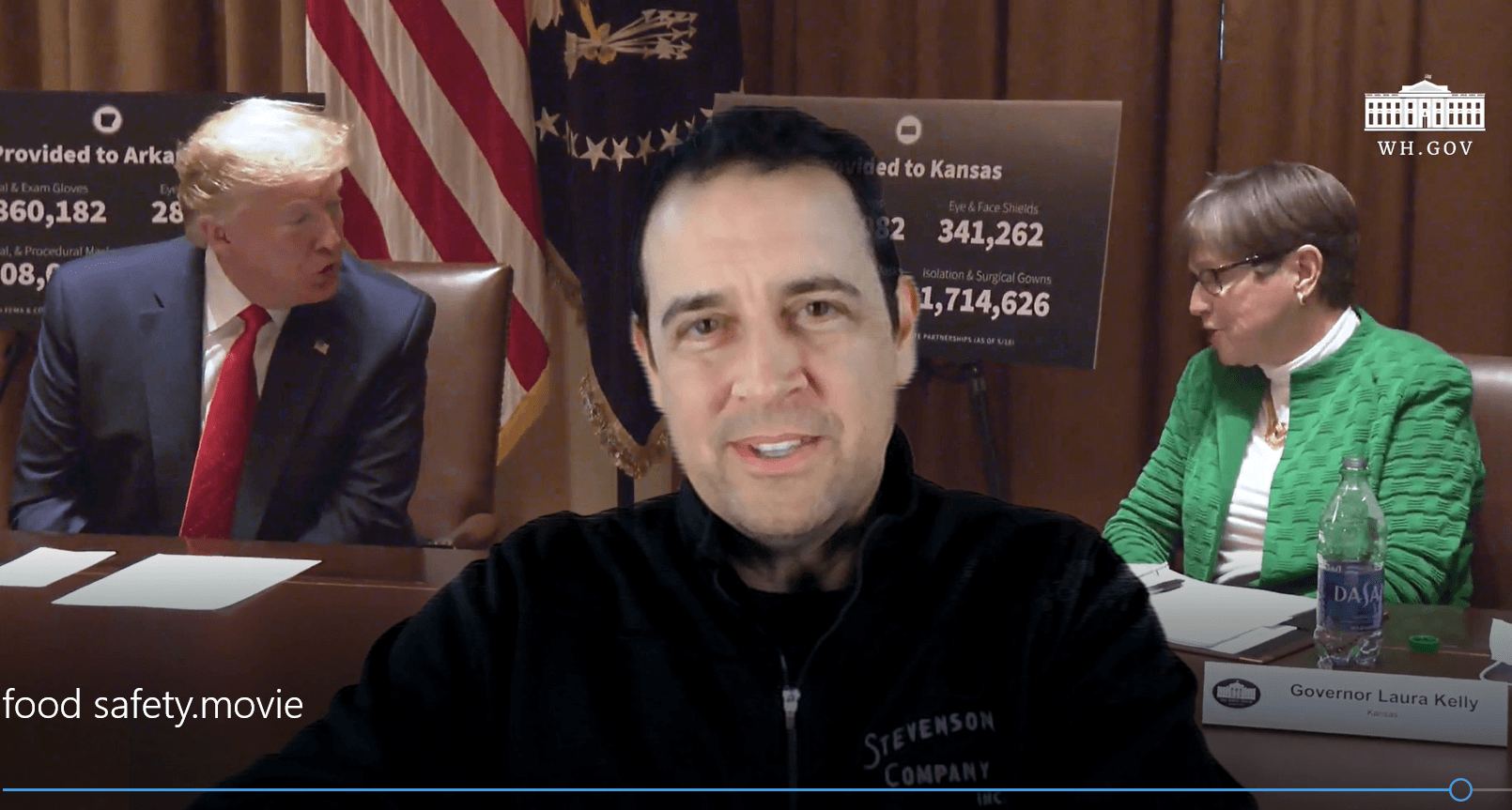 President Trump and Governor Kelly met about food safety and supply this week. They discussed how to address virus outbreaks. They illustrated a recent example working together with private industry to ensure stores of plentiful and healthy food.
Every food plant, whether its a mom-and-pop bakery or Willie Wonka factory, has a designated Preventive Control Qualified Individual. This person has completed an education certified by the FDA, and has prepared an emergency response plan precisely for times like these. If you hear about a plant closing - for example, Smithfield, Johnsonville, or Tyson - please be assured that our food supply is safe.
The agricultural industry is critical to this country's health and continuity. Your food comes from the heartland. Here in Kansas, we have more cattle than people. We export millions of tons of grain. Furthermore, we process value-added goods using these ingredients, like tortilla chips, pet food, pasta, and candy. According to the Kansas Department of Agriculture, the annual output of the agricultural industry is $65 billion. The Department of Commerce touts the sunflower state is home to such household names as "Mars, Cargill, Frito-Lay, Sara Lee, Reser's, Tyson, Hostess, National Beef and Schwan's." We touch every dinner plate in the country.
With news of plant closings, be assured our food supply is completely safe. COVID-19 is not a foodborne illness. According to the Centers for Disease Control and Prevention, all coronavirus are spread exclusively from person-to-person through respiratory droplets. They conclude, "Currently there is no evidence to support transmission of COVID-19 associated with food."
At the White House, Governor Kelly illustrated how best practices were swiftly implemented at a meatpacking plant in Kansas. She said to the President, "When we put out the cry for help with our meatpacking plants, you sent in a CDC swat team that came into Southwest Kansas where we have multiple meatpacking plants and really helped us set up the kind of system that we needed to have in place to ensure that those plants could stay in production and I'm very proud to say that Kansas is one of the few if not the only state that did not have to actually shut down our packing plants."
"That's right," interjected the President.
"We were able to create an environment that was safe," the Governor continued. "We were also able to provide with your assistance and our own agencies non-congregate living because a lot of the folks who work in these meatpacking plants live with a lot of other people. So we were able to work with our community colleges and hotels in that area to provide quarantine space for folks and that worked out really well."
The President said, "Our people worked very well together. After seeing your representatives and my representatives work together, they really did a good job together." He lauded the breadbasket of the world as a "terrific state, terrific people, hard workers, that's for sure."
Again, our bountiful food supply is safe. Our industry is committed to keep it that way. After all, we eat the same food you do. Well, with one exception. We keep the best steaks for ourselves here in Kansas.
----
Stevenson Company, Inc., founded in 1952, is a team of metal craftsmen with a specialty focus on stainless steel Spiral Chutes for manufacturers of food and breakable products. The company has been known for engineering custom products to solve difficultmanufacturing structural problems. Innovation, craftsmanship and quality are its hallmarks.