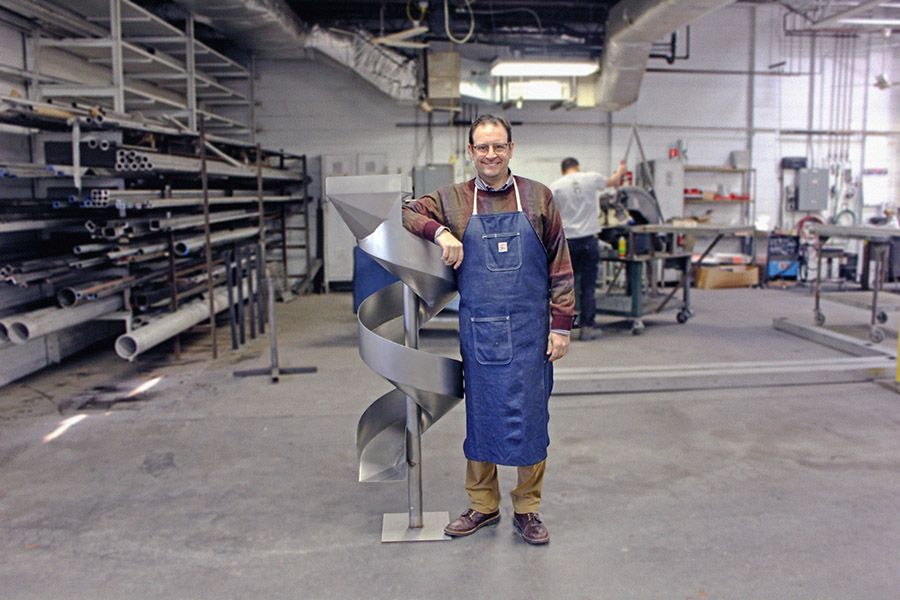 Stevenson Company is proud to announce that its very own president, Joe Pennington, has been accepted into the Leadership Kansas class of 2020. Pennington is one of forty individuals who were chosen out of more than 600 nominations this year.
Leadership Kansas is one of the oldest and most prestigious statewide leadership programs in the country.
Alan Cobb, president and CEO of Kansas Chamber of Commerce said, "Leadership Kansas has a long history of fostering greater awareness and understanding of statewide economic, business and political issues. The program helps develop our state leaders to make Kansas a stronger and more vibrant business engine."
"Over the moon excited to be part of this prestigious group," Pennington said. "Many of these leaders are established at heavy hitting organizations like Evergy or the State of Kansas, and I'm grateful that the selection committee chose to include a voice from the small business community, in addition to those big names. It's a diverse class." Stevenson Company, Inc. is a family business specializing in stainless steel fabrication for the food industry. They are known nationally as the expert in handling fragile product – particularly snacks, candy, nuts, pasta and pet food. "We are small but mighty, and eager to forge partnerships among the entities in aerospace, agricultural industry, government, and the growing animal health corridor, all for the betterment of the Kansas economy."
Through a six-month program starting in April, the 2020 class will attend three-day training sessions about topics such as business, public policy, education, agriculture, and economic development. These sessions will take place in Garden City, Overland Park, Olathe, Lenexa, Kansas City, Leavenworth, Hays, Pittsburg, Hutchinson, Wichita, El Dorado, Manhattan and Topeka.
The Leadership Kansas class of 2020 is:
Kellen Adams, USD 413- Chanute
Lori Bearley, KU School of Medicine at Wichita
Karen Braman, Kansas Hospital Association
Marshaun Butler, Children's Mercy Kansas City
William Cantwell, Spirit Aerosystems
Tamara Clymer, Colby/Thomas County Chamber of Commerce
Meagan Cramer, Kansas Farm Bureau
Angie Davenport, Peoples Bank and Trust
Lindsey Douglas, Kansas Department of Transportation
Lona DuVall, Finney County Economic Development
Beth Easter, INTRUST Bank
Charles Gravitt, AJM Transport, Inc.
Meeghan Hansen, BG Products, Inc.
Stephanie Harder, Textron Aviation
Darin Headrick, McCown Gordon Construction
Tara Helton, Studio H
Anthony Hopkins, State Farm
Benjamin Johnson, Kansas State University Foundation
Ronald Klote, Evergy, Inc.
Joel Letwich, Envision
Corey Linville, Sunflower Electric Power Corporation
Craig Lofton, Alloy Architecture
Matt Mayer, CrossFirst Bank`
Jeffrey Morrison, CritiTech, Inc.
Russell Packard, Lawrence Paper Company
Clinton Patty, Clayton Wealth Partners
Joe Pennington, Stevenson Company, Inc.
Scott Raymond, Blue Cross and Blue Shield of Kansas
Allen Reavis, Atchison Dental Associates, PA
Reggie Robinson, Kansas Health Foundation
Tawny Sandifer, Ascension Via Christi Hospital Pittsburg
Patrick Schutter, BHS Construction
Patrick Short, Cornejo & Sons
Joni Showalter, City of Goodland Police Department
Tiffany Stovall, Kansas Manufacturing Solutions
Cassandra Taylor, Architect One
Sarah Thompson, Seward County Community College
Pamela Waldeck, Kansas City Kansas Police Department
John Winter, Mid-Continent Instruments and Avionics
Zach Woodburn, Freddy's Frozen Custard Steakburgers