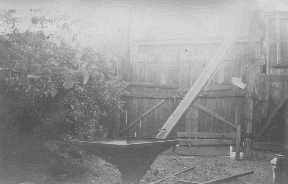 First Grain Auger invented in 1945 in Toronto, Canada Last year, Stevenson Company was recognized with the Innovation Award. This distinction, bestowed during the Small Business Awards ceremony in Topeka, recognized Stevenson's Spiral Chute as an outstanding innovation that contributed to the business community. The Spiral Chute was deemed to have a significant positive impact on the food processing industry. Through this, Stevenson shared the history of our spiral and how it was influenced by the design of an old grain conveyor. From the modern adaptation, the Spiral Chute started in a potato chip factory, then took off from there, spreading to fragile food manufacturers throughout the country. But what about the history of the grain conveyor?
The grain conveyor has an inspiring story of innovation as well. At Massey Harris (later Massey Ferguson), a young lad by the name of Pakosh approached the design department in the 1940s with his auger idea, but was scolded and told that his idea was unimaginable and that once the auger aged and bent that the metal-on-metal contact would, according to a head Massey designer, "start fires all across Canada." Pakosh, however, went on to design and build a first prototype auger in 1945, and eight years later started selling tens of thousands of his invention, making it the standard for modern grain augers.
Many other industries saw the benefits of this design and adapted it to a plethora of other useful creations such as snow blowers and oil augers. Years later, Stevenson adapted the grain auger into a smaller scale with higher sanitation and no moving parts which can now be found in manufacturing plants across the nation. Who would've thought that this young brave innovator would start a whole line of products to help every kind of fragile product from grain, to candy, to car parts.
Apprenticeship books showing Spiral Chute designs